Depend 7day Hybrid Polish System
Depend 7day is a nail polish system for when you want a nail polish with super gloss, top-class durability and a "gel feeling". This hybrid formula lasts for up to a week, is easy to apply, and is easily removed using Depend nail polish remover. No need for an LED/UV lamp – this nail polish system hardens in normal daylight or electric light.
Depend 7day is a 4-step treatment. The entire treatment takes 15 – 20 minutes, depending on how practised you are at applying polish.
Tips & advice
Allow nails to dry thoroughly before each new layer.
Apply Protecting BASE and Hybrid POLISH in thin layers. In contrast, be generous with Hybrid TOP on the brush when you apply it.
Touch up every three days with Hybrid TOP to make your nail polish last better. Use the CLEANSER before using TOP to top up after three days.
Keep the neck of the bottle clean, so that no air gets into the bottle when you store it.
Apply the polish about 1 – 2mm away from the cuticle.
Guide
Recommended products
Clean your nails with Depend 7day CLEANSER. Wait 30 seconds, until the surface is completely dry.
Apply 7day Protecting BASE to all your nails.
Then you can immediately begin to apply the first layer of 7day Hybrid POLISH. Just to be sure, wait 30 seconds before you apply the second layer of Hybrid POLISH. After that, wait an extra 30 seconds before you apply 7day Hybrid TOP.
Finish by applying Hybrid TOP in two layers. Wait 3 minutes before you apply the last layer of Hybrid TOP. After 5 minutes your 7day treatment is dry enough for you to touch the surface of the polish.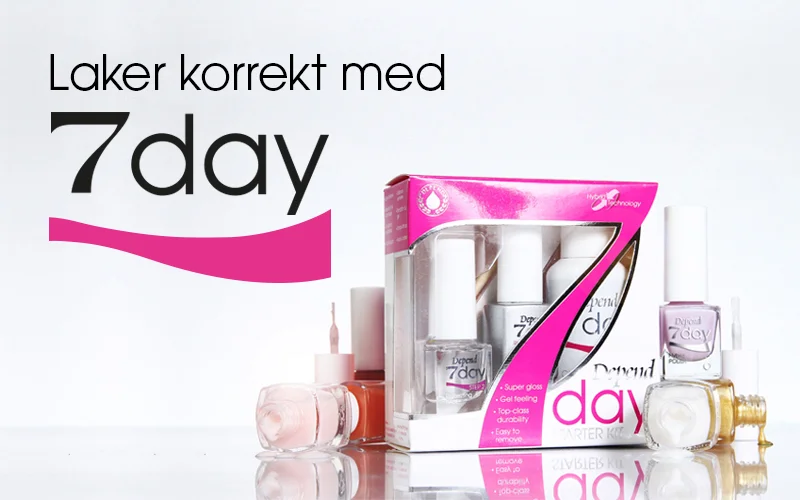 This Starter Kit provides the basic products you always require in addition to your chosen colour (step 3).