Soft, thin nails
MAY BE DUE TO:
Regular use of artificial nails.
Repeated exposure of your hands to water and detergents.
A lack of vitamins or minerals can cause soft nails.
WHAT TO DO:
Use a nail polish remover intended for natural nails or artificial nails that is free from acetone, oil, colour and perfume.
Exfoliate your cuticles once a week.
Use cuticle oil every day.
Strengthen your nails with a nail strengthener for soft nails.
Guide
Recommended products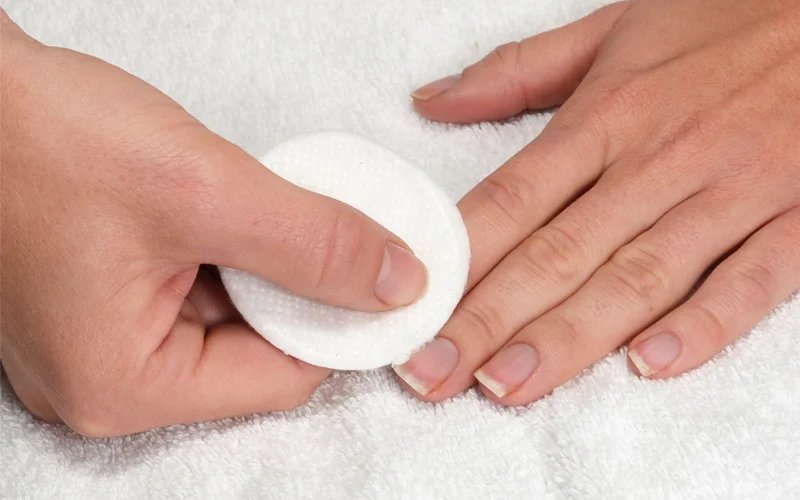 Choose the right nail polish remover
Good nail care starts with choosing the right nail polish remover. If you clean your nails with products that are too strong and contain acetone, for example, your nails will dry out, and it will take longer to restore their strength and flexibility. Nail polish removers should not contain oil, colour or perfume either, since these can cause discolouration of the nail plate. Oil makes it more difficult to apply nail polish afterwards, as oil residues can remain on the nail, and, as a result, the polish will not adhere as it should.
We recommend: Environmentally adapted nail polish remover that carries the Nordic Swan Ecolabel.
Available as dip-in, 100 ml and 250 ml
Clean your cuticles regularly
The next important step in achieving beautiful nails involves using a cuticle peeling product that removes dead skin cells and traces of skin from the nail and cuticle. The biggest advantage of this is that it makes your nails look more attractive. Removing the dead skin cells allows an improved flow of nutrients to the place where they are needed most – the nail root. It is also much easier to apply polish if you have cleaned the area around the cuticle. Peeling is a product that is often overlooked, but it is the most important product you can use if you want strong, healthy nails.
We recommend: Cuticle Peeling
Rehydrate with nail oil
Nail oil strengthens, restores the moisture balance, and improves the condition of your nails. Massage the oil into your nails and cuticles. If you wear nail polish, the oil can be applied over the polish. Use every day where possible.
We recommend: Grape & Avocado Nail Oil
Condition your nails with a nail strengthener
A nail strengthener that reinforces the nail while leaving it flexible is a great way to protect and strengthen soft, thin nails. Apply in thin coats as a clear polish or as a base coat twice a week.
We recommend: Strength Instant Repair