Perfect Eye – Eyebrow Pencil Slim & Thin
Beauty is in the details. This 1.5 mm pencil is perfect for precision styling and has a useful brush at one end to ensure an even colour. The thin tip means this eyebrow pencil is ideal for filling in eyebrow hairs and creating really sharp eyebrow contours. Available in the colours ebony, dark brown, medium brown, soft brown, caramel and taupe.
Guide
Recommended products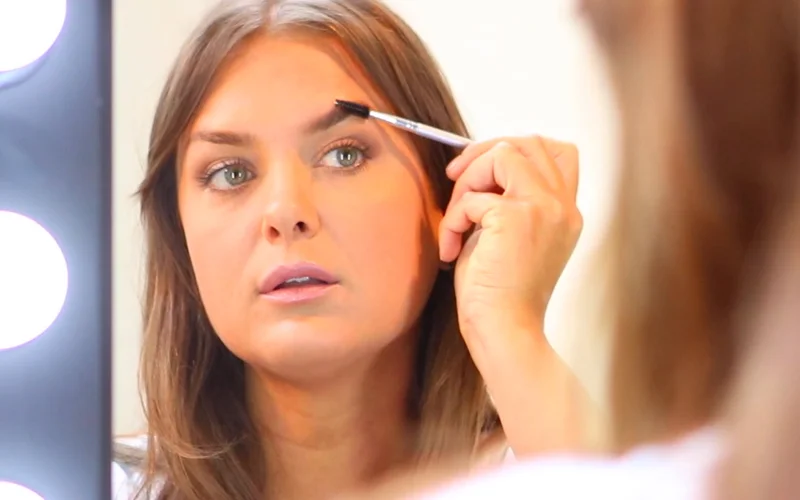 Begin by combing through your brows using the wand end of the pencil.
To accentuate the brow's contours, draw a thin line along your lower brow line. Start in the approximate middle of the brow and draw the line outward towards the temple and the narrow tip of the brow. Then continue the line in towards the bridge of the nose. This is to avoid you creating too bold a line at the start of the brow, where it is thickest. Most people's eyebrows are slightly sparser near the bridge of the nose, and we want to keep that for a natural look. So always remember that the brow should be fainter and less defined where it starts, and narrower and more clearly defined towards the outer tip.
If your brow is over a growth or a scar, or if for any other reason you do not like its shape, place the line where you want it to be rather than following the existing line under the brow. Depend Slim & Thin is perfect for filling in any bare spots in your brow in a natural way.
Draw tiny, thin lines in sparse areas of your brow to mimic natural hairs.
Draw tiny lines, upwards and outwards, from the lower eyebrow line up into the brow. Now continue with thin lines in sparse areas in your brow to mimic natural hairs.
Now draw a thin line along your upper eyebrow line. Starting in the middle, draw the pencil out towards the tip and then continue by creating a very faint and thin line at the thicker end of the brow. Here you follow the natural brow line.
Fill in the rest of the brow with small strokes in the direction of hair growth. Try to get a stronger and more defined brow towards the far end of the tip and take a little more care on the inner part of the brow so that it is faint and less defined.
Brush through the brow with the wand end to blend in and blur any sharp lines.
Tip!
Finish off by defining the brow further by applying concealer, for example, Depend Eyebrow Duo Styler "Wax & Concealer Pencil", or a highlighter, such as one from the Depend Eyebrow Beauty Kit, all along underneath the brow. Take care to properly blend the highlighter and the concealer downwards towards the eye for a natural result. Preferably set your brows with the wax pencil.