How to remove Gel iQ Method 1
Depending on your nail type and the condition of your nails, you may or may not find it difficult to remove the gel polish. We have therefore opted to use two different removal methods. We recommend, in the first instance, using method 1 to remove the gel. This method works for most nail types. Otherwise we recommend method 2.
Method 1:
Gel iQ Remover Oil removes Gel iQ gently using vegetable oil. For this method to work, there must be a certain amount of growth between the cuticle and the gel, which you would naturally have if the gel has been on for two weeks. This method is very gentle on the nail and cuticle, and the special chemistry of this product produces a reaction between the remover oil, the water, and the gel.
Guide
Recommended products
Removal using Method 1
Products to be used: Gel iQ Remover Oil, Warm water, about 40 °C. A bowl with a volume of about 2 litres that can comfortably accommodate all the fingers of one hand. Or use a washbasin.
What to do:
Apply plenty of remover oil to the fingers of one hand all along the cuticle and over the whole nail. Massage over each nail for about 20-30 seconds.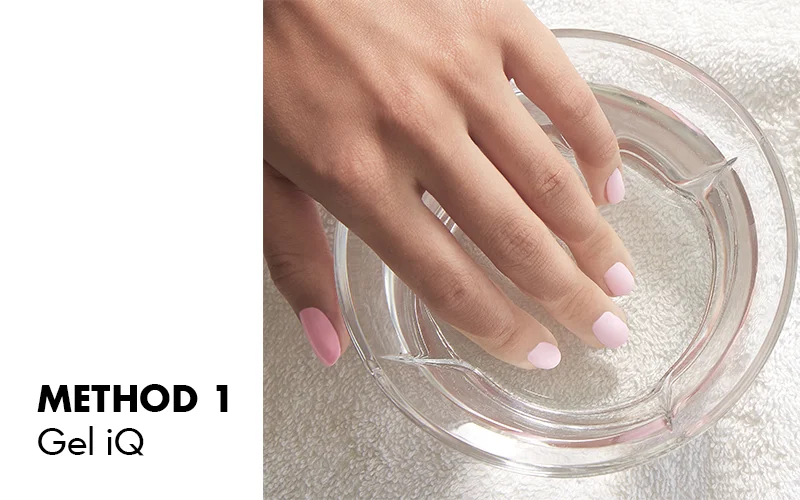 Lower your fingers into the warm water (about 40 °C) so that all the fingers are covered by the water. Wait 3 minutes. The warmer the water the better the effect.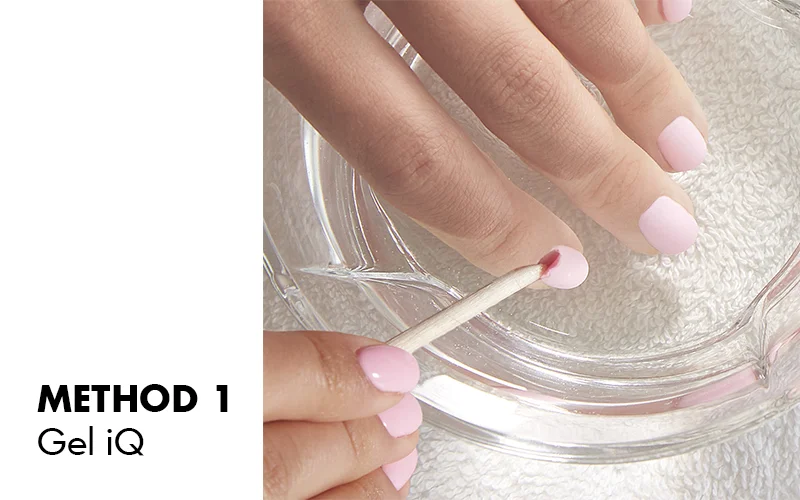 After about 3 minutes, begin to gently scrape the gel away from the area of new growth near the cuticle, using your own fingernail or an orange stick. Keep your hand in the water as you do this. Scrape a little and allow the water to get into the join between the gel and your nail. This will gradually loosen the Gel iQ, enabling you to peel it off in one piece if you follow the instructions properly. It is the reaction between the oil, the gel formula and the water that makes this unique removal method possible.
Important – remember that the water will cool down, and that the water temperature should be about 40 °C to achieve the best results. For that reason, it can be a good idea to change the water or add more warm water during gel removal.
NB! Be gentle and loosen the gel little by little while keeping your fingers in the water.
Be extra careful when scraping that you don't take away any of your natural nail as well, especially towards the tip where the nail is driest and can easily break. The gel is often most firmly attached towards the tip of the nail.
If you can't get all of the gel off your nails, repeat with more oil and warm water following the instructions above, until the gel comes off completely.
Repeat the same procedure for the other hand. Finish off by massaging in any excess oil and wipe your hands dry.