Discoloured nails
MAY BE DUE TO:
Your nail polish remover containing acetone, oil, colour and perfume.
You not using a base coat under your nail polish, which protects the nail from pigments in the polish.
You using an incorrect technique when removing nail polish, which means pigments are rubbed into the nail.
You using nicotine products that can cause discolouration.
WHAT TO DO:
Use a nail polish remover that is free from acetone, oil, colour and perfume.
Always use a base coat beneath coloured polish.
Use the correct technique when removing polish.
Guide
Recommended products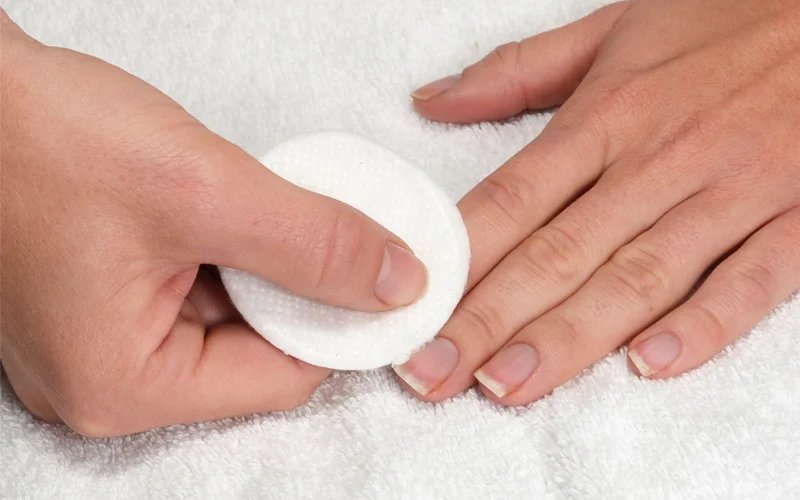 Choose the right nail polish remover
Good nail care starts with choosing the right nail polish remover. If you clean your nails with products that are too strong and contain acetone, for example, your nails will dry out, and it will take longer to restore their strength and flexibility. Nail polish removers should not contain oil, colour or perfume either, since these can cause discolouration of the nail plate. Oil makes it more difficult to apply nail polish afterwards, as oil residues can remain on the nail, and, as a result, the polish will not adhere as it should. Use the following technique when removing nail polish:
Soak a cotton wool ball or pad in nail polish remover and press it against the nail, then lift it up at an angle without rubbing it against the nail surface. This method avoids the risk of nail discolouration.
We recommend: Environmentally adapted nail polish remover that carries the Nordic Swan Ecolabel.
Available as dip-in, 100 ml and 250 ml
Clean your cuticles regularly
The next important step in achieving beautiful nails involves using a cuticle peeling product that removes dead skin cells and traces of skin from the nail and cuticle. The biggest advantage of this is that it makes your nails look more attractive. Removing the dead skin cells allows an improved flow of nutrients to the place where they are needed most – the nail root. It is also much easier to apply polish if you have cleaned the area around the cuticle.
Peeling is a product that is often overlooked, but it is the most important product you can use if you want strong, healthy nails.
We recommend: Cuticle Peeling
Rehydrate with nail oil
Nail oil strengthens, restores the moisture balance, and improves the condition of your nails. Massage the oil into your nails and cuticles. If you wear nail polish, the oil can be applied over the polish. Use every day where possible.
We recommend: Grape & Avocado Nail Oil
Protective base coat
Always apply a thin layer of base coat beneath coloured polish. The base coat grips the coloured polish and protects the nail, preventing the pigment from penetrating your natural nail and causing discolouration. It helps the nail polish adhere properly, and last longer without chipping. For best results, complete the application of polish with Depend top coat.
We recommend: Base Bonder
Protective nail strengthener with ridge filler effect
Use a nail strengthener with a ridge filler effect that moisturises, strengthens, and camouflages yellowing.
We recommend: Strength Anti-Age